It's getting easier to be a plus size woman in Hollywood. The very plus Gabourey Sibide, actress and star of the critically aclaimed film Precious, has been getting some fabulous gowns designed for all the award shows from the likes of
Kevan Hall
,
Tadashi Shoji,
and
David Meister
. I encourage you to support designers who support us! Gabby has chosen designers who do plus size lines, as opposed to straight size designers who only make plus sizes when a celebrity is involved. Go Gabby!
Here is Gabby in Kevan Hall at the Golden Globes: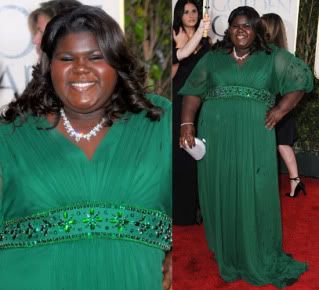 I think this dress is very pretty, I love the green with her skin. But I'd have preferred the neckline just a little bit lower to open her up a little more, and then the sleeves just a touch shorter. It also looks like it is too long on her, and if that's a train, I don't think it was necessary for this dress. But overall, a nice look.
Gabby wore this Tadashi Shoji dress below to an awards show recently, but I didn't feel like it flattered her shape when I saw the photos. I think this works better for an hourglass than her figure, which is more of an apple.
If I had $550 and a wedding to go to, there is no doubt in my mind that I would own this Tadashi Shoji dress, it is breathtaking:
Gabby has also been dressed by David Meister. Like Tadashi Shoji, you can find this line at Saks. Here is one of his designs, which is also tragically expensive ($530) but stunning. It is made of jersey, which might make it a bit clingy on the lumps&bumps, but it's lined, which does usually help and its ruched, which makes it more flattering. I think Gabby would look fabulous in this dress with the right undergarments.