I keep finding much more stylish, edgy pieces on line in plus sizes. I've had a lot of double takes lately, because I can't believe they are finally making these things in plus! Unfortunately, it's hard to put my money where my mind is on these, because a lot of them are beaucoup bucks. But hey, it gives me something to aspire too - I rarely find a plus designer piece to covet. Here are more than a few!
Why they shot this Stizzoli top (above) with such a dark skirt that it looks like a dress, I don't know. But just the top is $500. And yes, that's actual fringe, not a pattern. LOVE IT.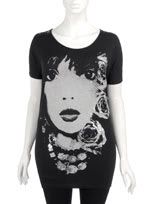 What I like about the Adrienne Vittadini white top above is that the proportion of the design is the right size and position for plus size bodies. If a pattern or print is done too small or in the wrong place, it can totally ruin the whole look. I'd be careful with the Evans top to make sure the girl's eyes in the drawings don't hit weird places on your bust line.
Left: Adrienne Vittadini Floral Print Top, $218
Right: Evans UK Lace Girl Motif Tee, £27.00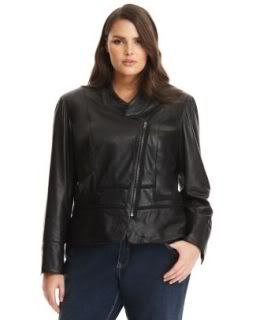 Tahari "Eliza" Leather Jacket, $1,298 (ouch!)
The leather jacket is mega expensive but the leather looks delicious, Tahari makes quality, and a leather jacket is a wardrobe staple. This still would not justify me buying it (what with my mortgage and all) but if you've got the money, I say go for it!!! With some dark wash jeans and a pair of black booties, you would look hot. What do you think?