One of my favorite stores to shop is
New York & Company
. It can definitely be a bit hit or miss, some days there are tons of things I want there, some days none. I like the fact that you can buy online and then bring to the stores if you need an exchange or return. They are having some crazy sales right now and so I bought a few things and they just arrived today. Here is what I bought (sorry about the "great gift" thing, it comes up on a lot of their pictures):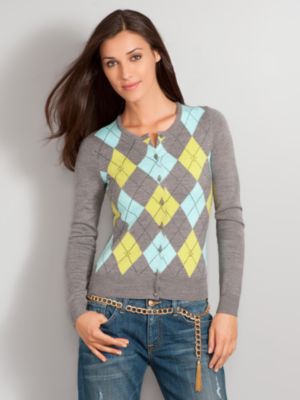 I bought this Argyle Cardigan in grey with hot pink but they are sold out of that color right now. They still have this green one available along with a few other color combos. It's retailing for $46.95 but right now they have a buy one get one half off on select styles (including this one) plus I've got a good discount code that will get you 30% off your purchase off $75 or more (code is
2516
) so it will come out much cheaper.
Note: I usually comfortably wear a medium or large top at NY&Co (I have a small upper half compared to my bottom) but this cardigan in large is a little small and I am probably going to exchange it for an XL, especially since I will want to wear a t-shirt or cami under.
I also bought a super cute snuggly grey sweater that comes with a satin belt, but it appears that it sold out already (probably in the black friday and cyber monday rush). It's too bad because it's super duper cute and comfy. They also sold out of the necklace I bought myself (and I bought another as a gift) but they still have some cute necklaces, check this one out: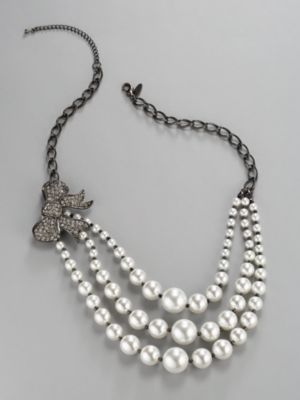 It's $24.95 and jewelry is all buy one get one for 75% off!!!
Go check out the deals before they are all gone!