Many of you have probably heard about the vintage/thrift plus size store
Re/Dress
in Brooklyn. I am very sorry to say I'd actually never been, which is shameful because I have been friends with the owner Deb Malkin since the early days of Beauty Plus Power (before starting her store Deb worked for
Alight.com
).
Here's a snap of the adorable Deb at her shop: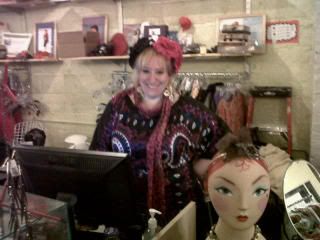 Last week my dear friend
Wendy Shanker
, author of the
The Fat Girl's Guide to Life
and the upcoming "Are you my Guru? How Medicine, Meditation and Madonna Saved My Life" invited me to an event at Re/Dress.
Here's Wendy wearing a whimisical birdy clip in her hair that she bought at the store for $3!
.
So Re/Dress is every bit as fantastic as you've heard! I bought in some stuff to trade in, as they will give you store credit for gently worn (or new) plus size clothing in good condition. They took most of my stuff (they have high standards, which I appreciate, and found stains on a few of my things) and I left the rest to be donated to charity. I ended up with around $50 store credit and broke even with my purchases - a pair of Venezia (Lane Bryant) jeans - new with tags!, a pale blue courduroy jacket (looks like maybe from Target?) and a very cool silk patterned top with a beaded trim neckline from Avenue.
I very painfully left behind a custom made purple taffeta formal gown that was FANTASTIC but also $100, and considering I have no known opportunities at this point for a black tie event, I had to say no. I nearly caved because it fit me like a glove but it was reallllllly fancy, apparently it was someone's custom made weddding gown (a purple wedding, fab!).
Here's a snap of Re/Dress: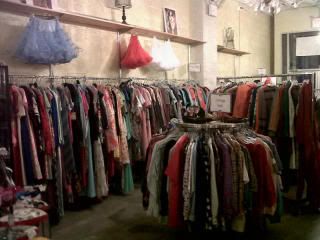 I saw this fantastic super 80's black sweater with dolman sleeves and furry embellished appliques and a pair of fierce black heels with skulls on them and I told Deb she should hold them for Gabi of
Young Fat & Fabulous
when she comes for the YFF Conference - they reminded me of the styles I see on her blog. You can't see them very well in the pic unfortunately.
The event at Re/Dress was for a young Parsons designer, Alyssa Robert, who was showing a few pieces from her collection and doing a meet and greet. The event was fun and it was nice to see an enthusiastic young designer trying to make her way in plus sizes, although it was sad to hear how much resistance she's had from her teachers at Parsons in trying to design in plus. Good Luck Alyssa!
I was also thrilled at the event to see fellow plus bogger and author of "Lessons from the Fat-o-Sphere"
Kate Harding
and founder of Ful Figured Fashion week Gwen Devoe, among others.
Finally, and very exciting, Deb will be selling a few pieces from my new jewelry line,
Sparklewing
. I am doing a special deal there for Re/Dress shoppers where you can get my rings for $10 instead of the usual $15.
My rings at Re/Dress: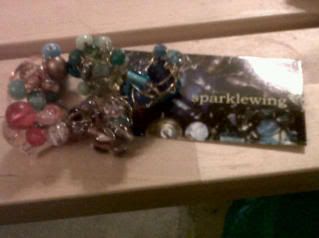 And to anyone living in the New York area or planning on visiting, Re/Dress is a can't miss!
Re/Dress
109 Boerum Place Brooklyn, NY 11201
(F/G train to Bergen Street – between Pacific & Dean St.)
718-522-7962