So apparently having a full time day job, blogging here and running
BeautyPlusPower.com
, plus renovating my new house room by room isn't enough to keep my brain busy, so check out my newest venture:
sparkewing
.
sparklewing
is the name of my jewelry line that you can currently shop on
Etsy.com
I only have about 5 pieces up so far but there will be over 25 rings on the site by the weekend. The rings are beaded and wrapped with wire, really fun whimisical pieces that stand out.
Ferry Ride Ring, $15 at Etsy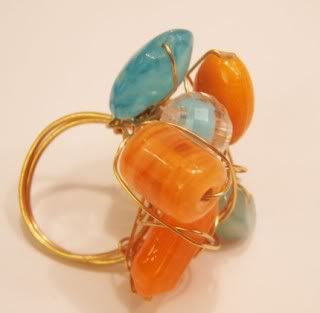 Spring Carnival Ring, $15 at Etsy
I am also taking custom orders through Etsy as well as doing "re-working", essential, send me your old/broken beaded jewelry and I will remake it for you as a ring!
Check out the Etsy shop at
Sparklewing.Etsy.com
, follow sparklewing on twitter @sparklewingshop and let me know what you think!
Labels: beaded rings, etsy, handmade jewelry