So my new series is supposed to be Pick or Ick but I found a single item that embodies both.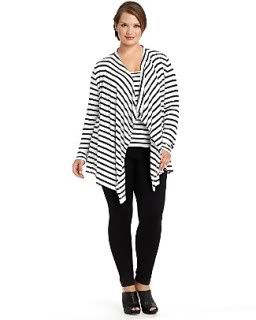 Do I love this or do I hate it? On one hand, this open cardigan with the hanging down front is a style that I think is not really that flattering to plus girls. There is something about the drape of it that I think makes you look bigger. Plus the way my body is shaped, this conceals the parts of me that are small (waist)and emphasizes the parts that are big (hips). Combine that with horizontal stripes and it gets worse.
Yet at the same time I think this girl looks kind of chic. And I can picture some of the stylish plus bloggers like
Sakina of Saks in the City
rocking something like this. It looks young and fresh with a nod to nautical but yet a cosmopolitan feel; the kind of thing a celeb would be snapped wearing, clutching a starbucks and wearing oversized sunglasses.
So what is your thought? Pick or Ick?