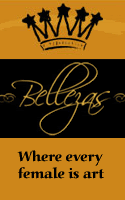 I am constantly discovering new sites to add to the BeautyPlusPower.com shopping directory, and
MyBellezas.com
is one of the most promising ones I've seen recently. I discovered this site thanks to the lovely Ofelia, a plus size model who is friends with Taylor, the creator of Bellezas (Ofelia is also the plus model on their site!).
Bellezas is a line of tees, tanks and outerwear with inspiring messages and designs on them. This brand new clothing line is available in girls and women's sizes up to a 2X, as Taylor's mission is to make females of all sizes feel good about themselves (here's hoping she will add 3X soon too!)
Taylor is still doing a lot of experimenting with Bellezas and testing out new manufacturers for the merchandise, so some of the items fit differently than others. The B-Reef relaxed fit tank, for example, is cut a little looser than I'd prefer (its more like a unisex sleeveless shirt), although I do think the design on it is ADORABLE! But Taylor is definitely working to make sure all the clothes do their best to fit and flatter. For now, I'd stick to the B-Reef rib knit tank (pictured at right) if you want a more close fit.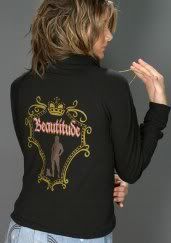 My favorite item for sure is the
Beautitude Spandex Cadet Jacket
pictured at left. I have one and I LOVE it. It's comfortable, stretchy and cute, and I love that the cartoon on the back is of a "real" woman. I totally feel like I have "Beautitude" when I wear it. It is $70, but you can get 20% off on all merchandise from now until June 30th with code
BME06
I am looking forward to seeing Bellezas develop and I hope you are too!