So I just got my order from
B&Lu
and I wanted to show you some of what I got, because I am so excited! If you haven't heard of
B&Lu
, it is an online store that targets young, trendy customers looking for affordable fashions. If I had to compare them to another brand, I'd say they resemble Torrid a bit. But
B&Lu
definitely doesn't have the punk edge to it, they would be like Torrid's college aged sister.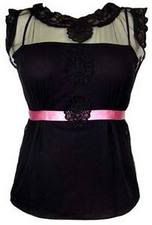 My favorite of the things I ordered from them is probably the
O'dessa Top
. It has a kind of cross between an asian and victorian feel to it, with a little bit of babydoll thrown in. I got the 1X in pink, and it has a figure flattering cut - definitely a close fit but not too tight. It is see-through, it's show in this picture with a tank under it.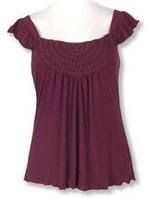 This top is called the
Cecilia
and is only $28! It comes in coral, and in burgundy. I bought it in the burgundy (the color pictured here). The crocheting on the top is SO cute, and its definitely a flirty fun piece. However, I recommend getting a size smaller perhaps than you normally wear - the top is very loose and drapy and if it's too big will look maternity on you. This top would definitely good for those looking to hide their bellies! I actually found it a little long for my tastes, so again I think going with a smaller size would be better. For my build (tiny waist, wide hips) I am going to get this item tailored slightly for maximum flattery. This is NOT a criticism of B&Lu however. Most ready to wear in plus sizes could use with some tailoring, because its very difficult to cater to the needs of a variety of larger body types. And for $28, even if you spend $15 tailoring to to perfection, you've still got a very affordable and unique top.