So you all know I am a fan of
Kiyonna.com
because they make really pretty, feminine unique clothes. Well I recently got an email from them previewing their new "Bridal Boutique" and boy was I impressed. They have some really gorgeous new things coming out - including wedding dresses, formal dresses and some really sexy new tops. Below are a few of my favorites: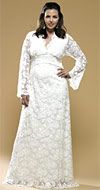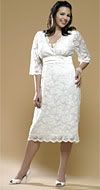 Left: Vintage Inspired Wedding Dress, $380
Middle: Lace V-Neck Dress with Mint Cummerbund, $188
Right: Scalloped Lace Wedding Dress with Cummerbund, $288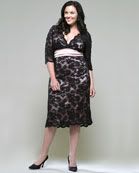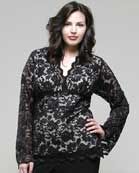 Left: Lace V-Neck Dress with Pink Cummerbund, $188
Middle: Colorblock Dress, $116
Right: Scalloped Boudoir Blouse, $88
I am VERY seriously considering that color block dress because
a) it is too cute and
b) purple is my favorite color.
Should I go for it?? I don't wear dresses too much, which is why I am not so sure. But it looks very wearable and comfy, plus I think the cut of it would be flattering to my hourglass figure. What do you think?