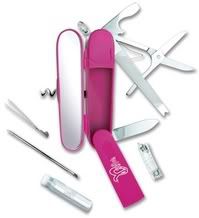 Ok, seriously how cute is this? I know its not a plus size fashion related thing, but I found this product called The Miss A Kit and I really wanted to show it to you guys. Basically, it's a girly army knife.
I know that as modern women we could just rock a Swiss Army knife if we wanted, but this is hot pink! Actually, it comes in a whole bunch of colors, including lime green, purple and orange.
More importantly, it has some attachments that are relevant to women, like tweezers, a mini perfume bottle, a nail file, a pill box and needle with thread. It also has stuff that would be useful to anyone, like a flashlight, a keychain, scissors, a screwdriver and a bottle opener. I am totally getting one of these for like every one of my friends now as gifts.
The Miss A Kit is only $19.99 and you can get one at
MissAKit.com