Ok, don't pass out from shock. I was rocking my new
LucieLu
shirt and wearing this cute boyfriend blazer with rolled up sleeves and my fave cameo necklace and I thought - I need to take a picture of myself!
Here I am!: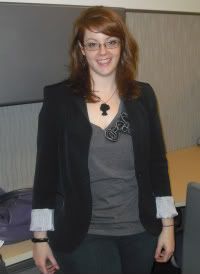 Yes, I realize my posture could be better, I am slouching on my desk. Also, I wear glasses - not a surprise to anyone who's met me but I never wear them in pics. And yes, I think the blazer kind of hides the shirt too much but it was too cold for me to wear the tee without it.
Here's a close up of the top:
The necklace is from the fun
Day-Lab.com
site. I am very bummed to say the LucieLu top appears to be sold out on the site, though I will check with Lucie if she is getting it back in. They do have the similar Whimsy Bow Top, which sells for $38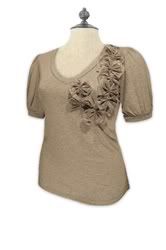 Full disclosure
: I contacted LucieLu after I learned about their line and asked to see some pieces. Lucie sent me a number of items to check and very graciously offered to let me keep my fave, which was immediately identified as this zipper top. If she hadn't gifted it I would have bought it hands down. It's so cute, and I have gotten a million compliments on it already.
Labels: boyfriend blazer, lucielu, ootd, plus size