My wardrobe has far more basics than I care to admit. My staples are jeans and black pants, and in the winter I wear a rainbow of cashmere turtlenecks, and in the summer? A rainbow of casual but pretty t-shirts. Yes, there are moments of super stylish glory, but my basics are really the bulk of my clothes. That's why I have a pretty sweet collection of jewelry. I bought a necklace recently that makes every outfit 5 times more fabulous and I recommend you do the same to avoid wardrobe blues!
In honor of entrepreneurial craftspeople, here are some standouts from
Etsy
that can pump up your wardrobe.
ShopCloverBelle's Ethereal Statement Necklace, $78
MamasLittleBabies's Fruit Punch Butterfly Necklace, $25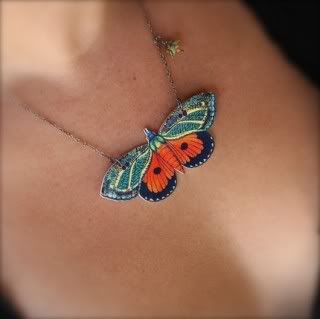 Leilanni's Hand Dyed Fringe Necklace,$45 (thanks to @fatshionable for cluing me in to this Etsy shop)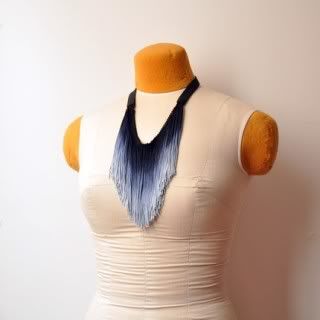 I think plus size women have the right kind of figures to wear powerful necklaces and not look swallowed up by them, so I highly recommend this for my curvy girls.
Would you wear any of these necklaces? Do you have any fave etsy sellers I should know about?
Labels: affordable plus sizes, etsy, statement jewelry