To take a break from my regular posts, I thought I'd show you a little bit of me, or that is, the room I sit in when I do most of blogging. When we moved into our house last year I was so excited to get my own office (we have 4 bedrooms - a big contrast to our old apartment in Brooklyn! and since we currently no kiddies we each got an office). After much thought I painted it a light pink. I am a purple girl by nature and have always painted my creative spaces in that color, but I thought I'd go for a change.
This is the wall next to my computer. I got the mirror for a $1 at a yard sale. The flowers on the mirror are actually fabric pins that I make. I have about 20-30 that I've done so far. I make them to relax, and hope to get good enough to maybe sell them at some point. For now I just make them for myself and my friends. The photos in are of my husband and I at our wedding, and then a little framed pic of my adorable nephew Jonah.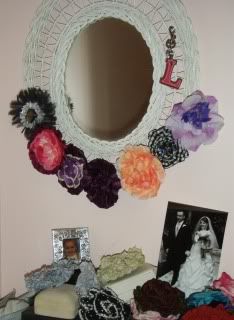 In addition to making flower pins I have also experimented with making flower necklaces. This is my favorite one I made so far. It's made out of necktie I got at another yard sale (um, I love yard sales).
Here is one of my most prized possessions - my Prada shoe (yes, I have the other one too). These shoes were released in the late nineties when I was in college. I coveted them so badly but they were $550, an insane amount of money at the time (ok, still a completely insane amount of money that I can't afford). I thought about them a lot in the years after that. Then when I was in my mid twenties, they re-released these shoes limited edition when the Prada flagship opened in Soho. I got the last pair in a size 8. I wear them on special occasions but keep them mostly on my bookshelf to admire. Naturally, they are on the chick lit shelf.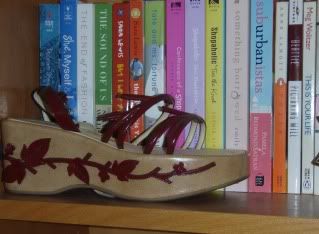 So my questions for you:
-What is your go-to creative color?
-Do you make anything for fun in your spare time? I'd love to see!
-What's your super special item like my coveted Prada shoes?
Smooches Fatshionistas!