Mark Fast is a British fashion designer known for his knitwear - but known far more than that for showing a few looks on plus size models at not one but 2 consecutive fashion shows at London Fashion Week. The first time he did it, rumor has it that a few of his staffers quit over his use of plus size women in the show. The press had an absolute field day with the story, and when seeing how lovely those curvy models looked, you could safely feel outraged yourself.
However - if I heard that a staffer quit over plus models in this show, I don't know that I'd be outraged. Because maybe they'd be quitting in horrible, horrible shame over putting some of the sexiest women in the world into clothes that turned their beautiful curvy forms into a mockery of squeezed, squooshed unflattering flesh. Don't believe me? On the left is Crystal Renn in one of many hundreds of beautiful photos of her glorious figure. On the right, Crystal Renn squeezed into a hideous red sausage casing at the Mark Fast show. There are not enough words.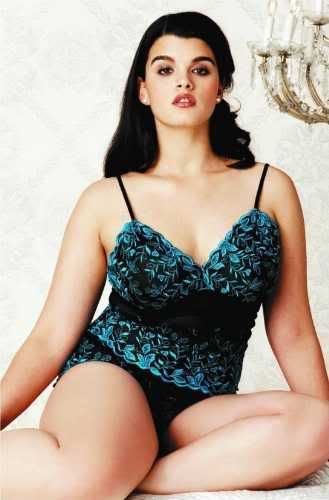 In fact, the picture on the left is an old Lane Bryant image, which I think is a few years old (and oh, by the way, I totally have that lingerie set, it's so cute!) and she may have actually been heavier then. These days I think Crystal is maybe a size 12. But I am pretty sure they've got her squeezed into their straight size sample. The boobs: squashed, the stomach: pooched, the hips: all over the place. UGH. The weird thing is, other than some of my plus size friends/bloggers, most of the articles I've been reading are trying so hard to be positive to the plus size movement (and I do thank them for their enthusiasm) that no one is pointing out the obvious of how much more impact these looks could have had if they fit correctly!
What do you think?