Hubby and I perused H&M today and I thought I'd translate some of their cheap trends for plus girls. Most of these are obviously trends that are already out and about. I'm not breaking any new ground here, but these are still good alternates for what's in store for the thin.
On a sizing note, I have 45 inch hips and fit into not one but all 3 of the size 14 dresses I tried on there (although 1 did not fit my 36C boobs - what's up with that?)
1) Floral is a must.
Every fashion mag has got this going on and it's true. Floral, in particular floral dresses are everywhere - mostly bold colors and patterns. I am seeing small & medium sized florals more than the bigger or abstract styles. Many have a very vintage-y feel. A couple of options in plus: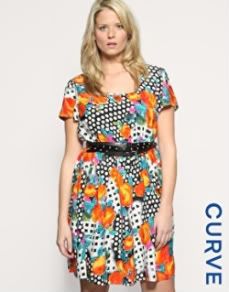 Left: Asos Curve Dress, £30.00 (but US shipping is affordable!)
Right: Lane Bryant Pleated Floral Dress, $59
Note: Each have the potential to make you look like a grandma, and if you are very top heavy, one of those old bosom-y grandmas. Make sure jewelry, shoes & hair are on point to keep you looking young and cute.
2)The
eighties
are not only alive and well, they are coming to get you and clubbing you over the head into submission.
Walking through H&M I felt like I was in an elementary school flashback (I was born in 1978). I refuse to go full eighties (although there are some amazing young Fatshion bloggers out there who rock the hell-o out of it) so if you are like me I recommend some softer influence here: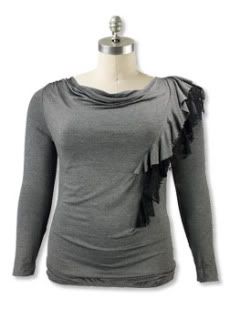 Left: B&Lu Celia Top, $34
This is eighties done subtle - a pop of retro in that flirty shoulder detail, but otherwise a simple, drapy top. I would avoid this style if you are very broad shouldered ,but if you want to draw attention up to your face, this will definitely do it and would like great with an updo.
Right: LucieLu Buffalo Plaid Skirt, $36
The Buffalo plaid trend is alive and well, but not everyone can succesfully wear a button down shirt (I always feel like they don't work well on me). So I like the idea of the buffalo plaid skirt, and then you can pair it with a casual black top, a big necklace and some shoe boots.
Labels: 80s fashion, plus size, plus size clothing, plus size dresses, spring dresses