It was announced this week that UK Department store
Debenhams
will start featuring some size 16 mannequins in their store windows. Although 2010 seems like the year of everything plus size and fabulous, this announcement is still considered breaking news as they are the only UK department store to do such a thing.
Well, if it's noteworthy, then we'd like to note it, and give a big THANK YOU to Debenhams. If you've haven't shopped in their stores (for you UK girls) now is the time to show them you appreciate that they are recognizing us! Unfortunately they do not ship to the US at this time :(
Check out the size 16 mannequins. By the way it should be noted that a UK 16 is about a US 12-14, so these aren't even truly plus size mannequins!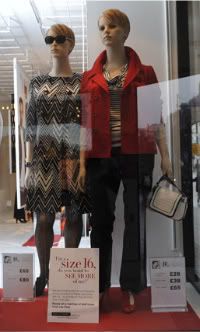 Here a few hot looks for sale at Debenhams that are available to at least a size UK 22: