I am addicted to the TV show Glee right now, if you haven't heard of it, you can read recaps of recent episodes on
Television Without Pity
. One of the best singes on the show is Amber Riley - who happens to be plus size. Although she is not the main female lead, every time she busts out with a song, my jaw just drops. She is a really funny, likeable character. Although her size is referenced occasionally on the show, it's not done negatively and what I really like is that she is portrayed as an attractive, confident girl with a great wardrobe (which she is!). Here are a few snaps of her, both from off the set and on: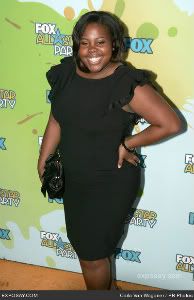 I wish I could tell you what designers she is wearing in the pics above, but I have no clue unfortunately. I did find a few similar pieces if you like her style:
This dress is similar to the blue one she is wearing, except this version is knit and not satin. It's from Forever 21 and is $22.80.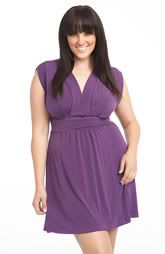 This looks a little like the Black dress with the Ruffled Sleeve. It's from Wallis UK and is £45.00.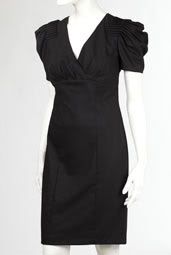 If anyone knows her stylist, let me know!