I am DETERMINED to get a pair of wide calf boots this year. Every year I look jealously at the girls strutting around Manhattan (and my office) wearing the cutest boots. I say I'm going to get a pair, and then I don't. This is because: I am afraid of heels (no balance for this fashionista), I am worried I will look like an orange on a toothpick if I tuck my jeans into my boots (I've got some big hips) and I am concerned about fit (because I will be ordering them as opposed to trying them on at a shoe store.) But I vow - no more! Zappos has free overnight shipping and free shipping on returns. What could be so bad? And the new wide calf boot styles are cuter than ever before. Check out a few faves:
Boots with Buckles:
Left: Fitzell Edeen Boot, $159
Right: Naturalizer Jadis Boot, $93.75 (on sale!)
Sleek & Sexy Boots: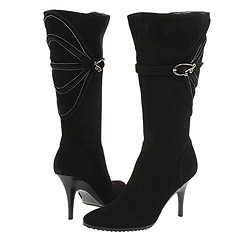 Left: Bouquets Shyloh Boot, $89
Right: Fitzell Kyoti Boot, $103 (on sale)
So which boot should I get, ladies???
Labels: wide calf boots, zappos