A new plus size magazine is going to print December 1st!
Skorch Magazine
has been an online presence in a few different forms over the last few years, catering to plus size fashionistas. It looks like their dream of becoming a print publication is coming to fruitition. Right now on their site, they are featuring a digital "mini mag" which reminds me a little bit of Lucky for the plus size girl. It features mostly product shots of cute, affordable plus size clothes. They also have a couple of articles, including one with their cover model, Trice, from the Dance Your Ass Off TV Show.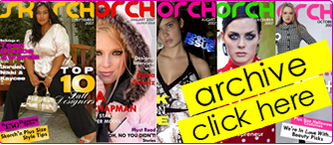 The print version is supposed to launch in December in print and as a digital download. They are pre-selling subscriptions now for $25 a year. I am not sure what to expect, but I think that if they follow their web format somewhat that it could turn out well - it would certainly be aimed at a younger, more fashion conscious audience than previous plus size publications have targeted. It makes me a little nervous to see a new magazine launch during a recession, since print mags are REALLY hard to keep profitable, but I would think Skorch founder Jessica Kane, a true full figured fashionista and businesswoman, has probably done a lot of planning that should help make the publication a success.
To be successful, she is really going to need subscribers. The publishing industry is based on circulation size - that's what helps attract advertisers to your mag, and the advertisers are what really keep you in print. I'd like to encourage my blog readers to check out her publication when it launches, and if you like it, even just a little, please consider subscribing. If we can prove that there is viability to the plus size magazine market it will go a long way towards pushing others in this direction and into plus size fashion in general.
Good luck, Skorch!
Labels: plus size fashion, skorch