Ed Hardy is EVERYWHERE. I feel like this designer brand popped out of nowhere and just became ubiquitous. Ed Hardy flip flops, hand bags, jeans, t-shirts, kittens, blah blah. To me, the line jumped the shark when Jon Gosselin, formerly of Jon & Kate (Plus 8) was seen in France with Ed Hardy designer Christian Audigier, apparently to discuss either a biker or kids line (?).
I recently discovered that the Ed Hardy clothing line is based on the artwork of Don Ed Hardy. I also found out that Christian Audigier is no stranger to brands that oversaturate the market - he's the designer of the Von Dutch collection (remember those trucker hats?).
So I guess it's sort of inevitable that Ed Hardy now does plus sizes. For between $60-90 you can get an Ed Hardy t-shirt at Macys, among other places. I can't decide if this is a good thing or not. I personally won't be buying into this trend, but I'm happy that if my plus size sisters want to splash this brand across themselves, they at least have the option now.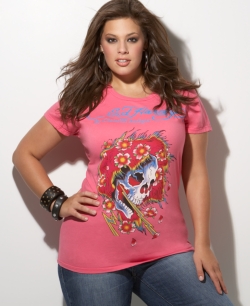 Edy Hardy Plus Size "Beautiful Ghost" T-Shirt, $68, Macys.com
Labels: ed hardy, plus size clothes