Lane Bryant is promoting a new collection on their website and in stores called the ICON Collection. The premise is that the new collection is "inspired by the runways of Paris, Milan and London". It's supposed to be more of a designer line, with fabrics and prices to match. I was interested in seeing what they would do with this, but I have to say that I am less than impressed with the first round of designs on site: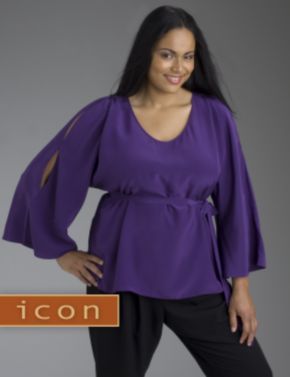 The Cold-Shoulder Silk Blouse pictured above is $98. I don't see anything particularly designer about it, and it doesn't really correspond to fall trends much, except maybe that purple is a big color for fall. To me, it's just another plus size tunic.
Instead, what about this ECI Ruffle Print Lace Top, $72 at Nordstrom. This shirt hits the purple note for fall, and also includes fabric embellishment, in the form of tiered ruffles, which is very hot.
Below is the Grey Check Duffle coat from Evans UK, £65.00 (they ship to the US). This jacket incorporates a number of fall trends - the shorter, less structured jacket, the definition of the shoulders, and the plaid, all of which were seen on the runways.
Go check out the full
Lane Bryant Icon Collection
and then let me know if you think it's noteworthy.