One thing I like to do on this blog is tell you about stuff I've discovered that I think you might not know about it, or think to look at. I've got a doozy for you today. Remember Home Shopping Network? The TV channel where you could buy stuff from home, everything from cosmetics to jewelry to holiday sweaters?
Well it turns out that their website actually sells a ton of clothes, and from what I can tell, pretty much everything they sell comes in larger sizes - most to 3X. A couple of brands only seemed to go up to 1X, like Iman's really cute collection (dress pictured below) but even then the sizing is pretty generous. The clothes seem pretty affordable too. I haven't ordered anything from the site yet, but I think there are definitely some promising candidates. And it's pretty cool that I can order everything from a dress to a rug to a heart rate monitor all from the same site!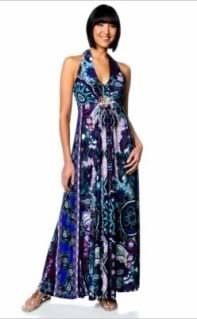 IMAN Global Chic Perfectly Paisley Halter Maxi Dress, $69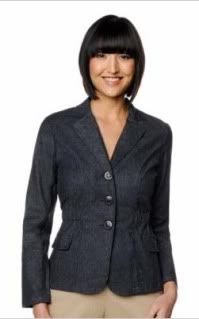 theme® Classic Style Denim Blazer, $54
Retail Value $78. Available up to size 3X.
I like this blazer because the seaming makes it fit close to your body, and I think that's key in blazers & lightweight jackets to flattering your curves, and not make you look all boxy.