I wrote about
Etsy.com
a long time ago on this blog but I think it's worth mentioning again. Etsy allows everyday people to sell things - but not like Ebay - this is craftspeople selling their wares, like a giant online craft fair. You can find it all, from pottery to prints to jewelry to clothes.
A lot of people are selling their unique, funky plus size clothes. Many of them offer clothing they will custom make to your size, which is fabulous. Check out this cute t-shirt, which you can get up to size 2X: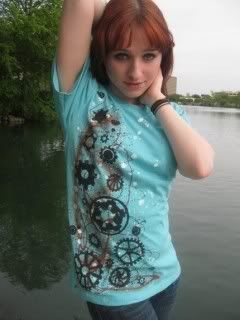 This
Steampunk gear/cog t-shirt
is only $28, and you can wear it knowing that none of your plus size friends will have one, which is nice in a Lane Bryant world.