I realized recently that I have never written a blog about one of my favorite websites,
HipsandCurves.com
. They sell beautiful, sexy affordable lingerie exclusively for plus size women! I have bought things for myself from this site before (and so has my boyfriend!). I really like the items they carry on the site, and they have a great staff, the owner Rebecca is awesome and their customer service is top notch. Here are a few of their cutest pieces:
How cute is this
Thumper Bunny
costume? I *may* have worn something like this on Halloween and it *may* have gotten rave reviews from my boyfriend(lol)! Seriously, what man doesn't love a girl dressed up like a Playboy bunny? Just shake your little tail at him and he'll be in heaven. The set is affordable too, for $39.95 you get the stretch satin dress with marabou trimmed neckline and attached bunny tail, matching satin collar, cuffs and bunny ears! Just click on the picture to hop off with this outfit.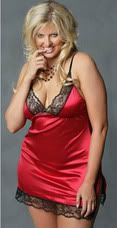 If you are a little more of a traditionalist in your lingerie preferences, how about this
Lace And Stretch Satin Baby Doll
. It comes in red (pictured) as well as fuschia or black. I think it's super cute and its super affordable - only $25.95!!! This dress is flattering on a variety of body types, and to be fair, it's not likely that you'll be wearing it for too long anyway!!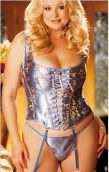 For something a little more exotic, why not try a corset? This
Floral Brocade Corset
is so pretty! I love the idea of having the laces be up the front, it makes it more fun for your partner to take it off! Plus the fabric is gorgeous, and who can resist the matching g-string that comes with it? In addition to the ice blue color shown, it also comes in gold or green. At $62.95 its the priciest piece of the bunch I've shown, but also the most unique!