I read this
press release
today from One Stop Plus sharing the results of their survey on plus size celebrities. They polled women about which from a list of 10 plus size celebrity was the sexiest: Queen Latifah, Whitney Thompson, Marilyn Monroe, Jennifer Hudson, Crystal Renn, Kirstie Alley, Jill Scott, Jennifer Coolidge, Kate Dilon and Mia Tyler.
I have some gripes with their list, first of all. How did they choose this list? Kirstie Alley is the opposite of sexy because of her clear self loathing. She ping pongs from fat to thin, sometimes championing her body, other times mocking and shaming herself over it. It's worse than Oprah.
Jennifer Coolidge
, the comedic actress of films including Legally Blonde, American Pie and cult film Pootie Tang (seriously, rent it, it's so bad it's good) isn't someone I'd even necessarily think of as plus size. Sure she's voluptuous, fuller figured according to Hollywood standards, but I am not sure she's actually plus sized. Marilyn Monroe was a size 12-14 in the 1960s, but that was probably the equivilent of today's size 8. And do we seriously need to throw a dead person into the mix? The rest of the celebs are all women who are alive and famous today.
I dig Queen Latifah, the winner of the survey, because she has managed to appear on tons of magazine covers, have her own cosmetics campaign and make a splash on the red carpet as a plus size woman - something that isn't very easy to do, and she does it all looking lovely most of the time. And J-Hud (Jennifer Hudson) has done a lot to help advance plus size women in the media (although, I'm still a little upset that Andre Leon Talley dressed her in that hideous gold bolero jacket for the Oscars the year she won for Dreamgirls).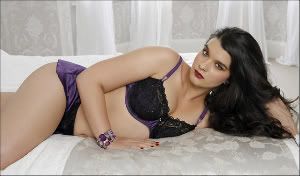 Other than singer Jill Scott, the other women are plus size models: Whitney Thompson, the plus size model who won America's Next Top Model, Kate Dillon, one of the first plus size supermodels, Mia Tyler, beautiful sexy bad girl daughter of Aerosmith's Steven Tyler - and
Crystal Renn
, author of the recent memoir Hungry, is an absolutely breathtakingly gorgeous woman, she'd probably have my vote out of all these girls.
I wanted to bring up here all the other gorgeous, sexy plus size famous women that could have been on this list. I came up with
Adele
, an incredible British singer, and
Jordin Sparks
, American Idol winner, but then I was drawing a bit of a blank. Umm...there's a cute plus girl on Glee now...there's that girl who starred in Hairspray on Broadway, and the one who starred in the movie.....there's Betto Ditto, but she's so out there in her sweaty spandex glory that I don't know that middle America would qualify her as sexy, although I'm sure she is to some....
Point is, I am drawing a blank. Where are all my plus size hotties? Let's rule out models for now, and go to the drawing board of actreses and singers. There simply aren't that many of them. We need more! We need more hot sexy plus size girls in pop culture. Is there anyone out there I should have on my radar? Let me know!
Labels: plus size celebrities