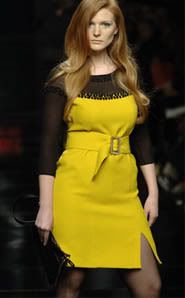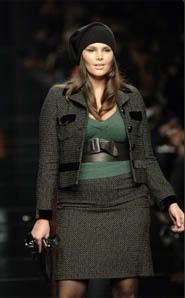 What do the above items all have in common? Well, they are all chic, designer clothes. They are all styled beautifully, modeled by gorgeous models, and they are all very runway fabulous. But there is one more thing. They are available EXCLUSIVELY for PLUS SIZE women. The above come from Italian Designer Elana Miro's latest plus size collection.
Sometimes I feel a little hopeless about the state of plus size fashion, and then something like this goes and just jacks up my excitement level to the 10th degree. Ok, but here's the tragedy. You can't get them in the states. I know, right? Conspiracy!!!! Elana's clothes are available all over the UK, Europe, and even in places like Dubai, United Arab Emirates. But USA? Nope. However, we do have a contender for a hot new plus size designer in the US. Check these out: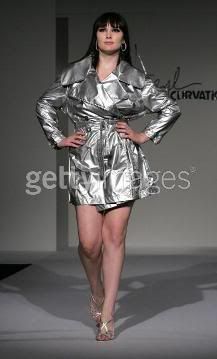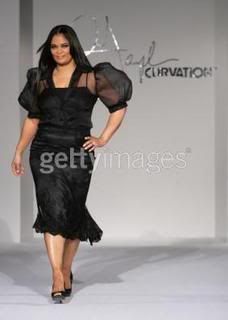 The images above are from a new line called "Curvation" that is "inspired" by Queen Latifah. Curvation already does a line of affordable bras that Queen Latifah is the representative for, and now they have added a designer clothing line. The line is designed by Queen's personal stylist, and judging from the fashion show that these outfits were part of, there is some definite promise. There were a few pieces that I did not like at all, but for the most part, I was pretty impressed with the hotness of the collection.
The Curvation collection is available online (although not the pieces featured above, at least not yet). You can visit
ShopCurvation.com
and pick up items like this: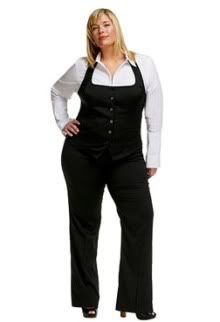 Curvation is definitely priced like a department/boutique level designer more than something Lane Bryant, but so what? It's not Lane Bryant! It's another choice! The vest featured above is $74.99 and the pants are $124.99. I am looking forward to getting a chance to try out this line very soon so I can report back to all my BPP girls.
But the point of this fashion post today was to remind you ladies that there are designers out there trying to cater to a more stylish, higher price point plus size shopper. Michael Kors and Calvin Klein's have new plus size line selling at selected Macys, Lord & Taylors and Bloomingdales. What else could be next? Personally, I'd die for Marc Jacobs, Dolce & Gabbana or Betsy Johnson to try plus. Do you have any designers you are hoping will be next to throw their hat into the ring?