Plus size vintage clothing can be hard to find, especially on the web. Sizing is different today than it was in the past, due to something called "vanity sizing". People today are fatter than ever, but they want to feel skinnier. So Marilyn Monroe, who has been touted as a size 12-14, may have been a size 8 today, for example. When buying vintage clothing online, never buy from a site that list things by dress size - instead look for bust, waist and hip measurements. Either measure yourself with a tape measure to see if you'll fit, or cross reference against my
Size Chart
for help.
One of the sites I recommend is
Ballyhoo Vintage
. You click on
Curvy Dresses
to see their plus size items. I like this dress: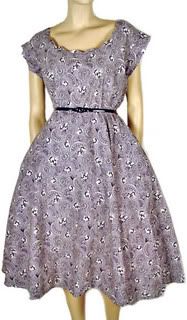 1950s Fit and Flare Dress with Full Circle Skirt
Bust 40" - 42"
Waist to 35"
Shoulder to waist 16"
Waist to hem 29"
$85 at BallyhooVintage.com
The items below items are from
RustyZipper.com
. I found them by filtering their results by size, and I entered Women, Clothing, XXL, which turned up plenty of different large size items.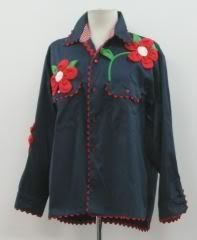 (L)1980's Hippie Shirt, 46" Bust 46" Waist 47" Hip, $24
(R)1970's Jacket, up to 46" Bust, $23.80
There are a few other plus size vintage stores in the
Vintage
section of the BPP shopping directory, but to be honest, Vintage isn't one of our biggest categories. So if you know any other hip stores online to find plus size vintage, make sure to let me know!!!