So I am obsessed, and I mean OBSESSED, with this site I found called
Etsy.com
which is kind of like the craft fair of the internet. Anyone who makes anything - from paintings to scarves to pottery to jewelry can sell it through this site. The best part is, there are so many beautiful, interesting things to see and shop for. I haven't bought anything yet, but it's just because I am afraid once I start, I won't be able to stop. Oh, and did I mention in the clothing area you can sometimes find plus size stuff??? Here are some of the coolest things on Etsy this week: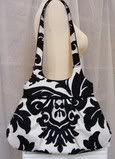 Left: Cameo Print Panties, up to size 3X, $8.00
Middle: Love Note Necklace, $16.00
Right: Black & White Pleated Bag, $45
Go support fun indie artists!